Gin's Laundromat
Kanji

ギンのコインランドリー

Rōmaji

Gin no Koinrandorī

Location Statistics

Located In
Controlled By
Gin's Laundromat is a small self-service laundry located in Bleike City, located in the Yorbian continent.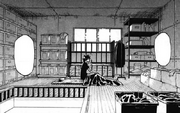 While to the regular citizen of Bleike City, it may look like a regular coin laundry, the shop is house to Gin (the shopkeeper), a proficient Nen user, and his two employees, Max and Ilye.
Residents
Edit
Permanent Residents
Edit
Temporary Residents
Edit
References
Edit
Ad blocker interference detected!
Wikia is a free-to-use site that makes money from advertising. We have a modified experience for viewers using ad blockers

Wikia is not accessible if you've made further modifications. Remove the custom ad blocker rule(s) and the page will load as expected.